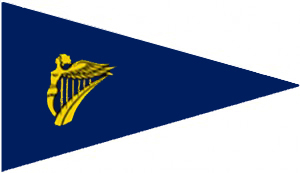 15 Nov

Laying Up Supper 2015 – roundup

Our End of Season Laying Up Supper took place on Friday Night at The Commodore Hotel. The event was a huge success and I'd like to thank our special guests, Finbarr and Norma O'Regan, Commodore and first Lady of Kinsale Yacht Club and Toni O'Leary from Union Chandlery for joining us. The staff at the Commodore had made a huge effort and the venue looked fantastic and the service and food could not have been better.

As always the main event of the evening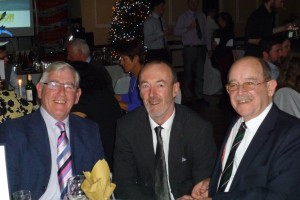 is the annual prize-giving. Before announcing the overall season league winners and the 4 big club awards, and just to add to the excitement a little we awarded a couple of trophies that we'd not been able to give out earlier in the season for one reason or another including the Titanic and September League Trophies.
We then paid tribute to some of the special achievements of our members during the year including Chris, Jamie, Christine, and Derry who all had success in dinghy events at other clubs. Kieran Dorgan, Ewen O'Keefe and Jason Losty who had competed in the SB20 World Chapionships at Lake Garda during the season and Richard Marshal who was part of the winning crew in the recent Melges 24 Dutch National Championships. Special mentions for service to the club above and beyond …etc. were made to Damian Aherne, Eddie Courtney, Colin Lettice, Niall Hawes and Dominic Losty.
On to the Overall Season awards and Jamie Lettice was rewarded for finishing first in both the Midweek and Weekend dinghy Leagues receiving the "Jim Hennessey Trophy" and the "Mary English Trophy". In the cruisers, Adrian Tyler's White Knight came first in both the "Kites" IRC and ECHO Leagues with Kevin O'Connor's Gaelic Kiwi in 2nd and the Coakley's Jay 3rd. In whitesail Jim Buckley's Wader took the trophy just ahead of Damian Aherne's Re Eile with Bright Wings in 3rd place.
The Club Boat of the Year trophy was awarded to Wader, the first whitesail boat to be awarded the trophy. The Club Junior of the Year trophy was awarded to Siofra Richardson as recognition for her great attitude, leadership and commitment she consistently demonstrated through the year. Club Person of the Year was awarded to Michelle Gray-Mooney for her hard work and support particularly in developing our Saturday Sailing and summer courses whilst supporting the main club committee in her role as Club Secretary.
Lastly, we came to Cove Sailing Club's most prestigious trophy, The Foley Rose Bowl. After a brilliant presentation from Eddie English explaining some of the history behind the development of the Rankin dinghies, the Foley Rose Bowl was awarded Maurice Kidney and John Doyle of the Rankin Dinghy Group in recognition of their hard work and success in revitalising the class.
Cove Sailing Club would like to thank everyone who attended and supported the event, the organisers and all our sponsors who donated raffle prizes : The Commodore Hotel Union Chandlery, CH Marine, Londis (Keatings), Cork Harbour Boat Hire, Conversation Piece, Academy Crest, Matthews of Cork, Musgraves, & The Elm Tree
Some pics of the prize-giving: