Welcome to the Cove Sailing Club.
Any feedback can be sent to info@covesailingclub.ie. We will endeavor to have as much information available as soon as possible. If any member has photographs they would like included on the website or any other information please
Email Us
.
Latest News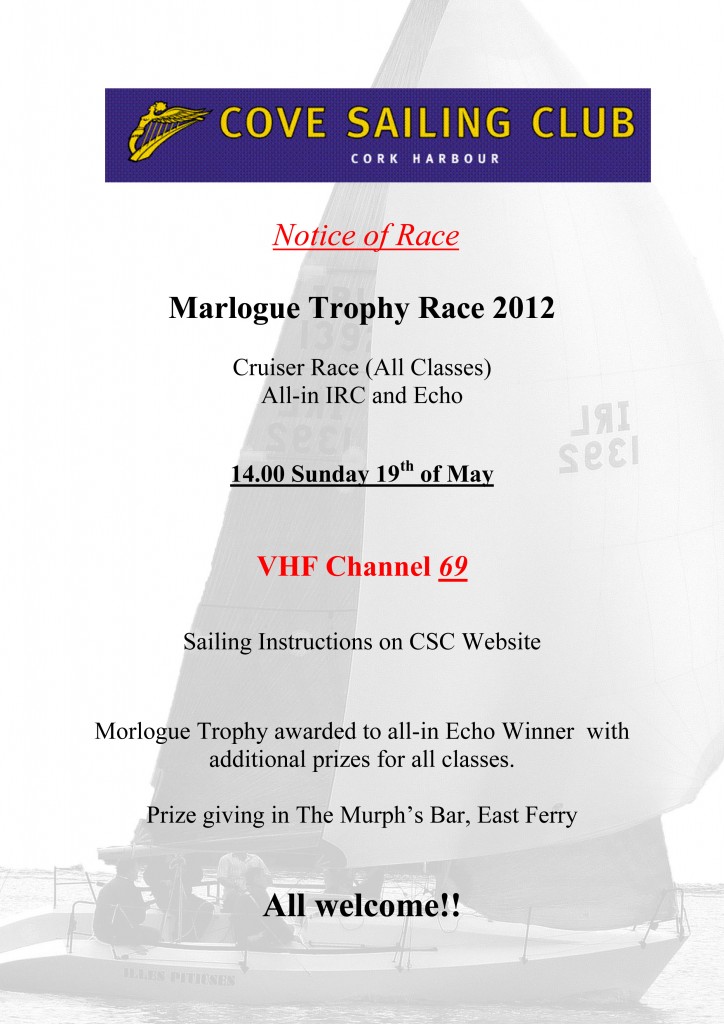 Marlogue Trophy Race 2013 - Sailing Instructions (click to download)
This is just a reminder that (weather permitting) The Marlogue Trophy race will take place on Sunday 19th May. We are planning to finish the race at or near the East Ferry Marina. Boats can then tie up and we will will hold the prize-giving in Murph's bar over the water from the marina. We will ...
Last Friday night was the the first race of the new Cork Harbour Combined leagues. The first race was run by Cove SC and the start line was between the committee vessel and East Ferry 2 channel marker. With a very testing force 5 blowing from WNW and a falling tide the fleet started and headed ...
There are not enough boats around again this Sunday to be able to race and so it is with regret that we've had to cancel this years May League. So for the remainder of May the Sunday schedule will be as follows: Marlogue Trophy - Sunday 19th May - is on May League - Sunday 26th May ...
With only a couple of boats ready to race we have had to cancel both the Friday Night League and May League races for this weekend. If we can get enough boats out to race next Friday then we will also try and start the May League on Sunday 12/5. In case you need any additional incentive ...
The Cork Dry Gin Calves Week, run by Schull Harbour Sailing Club, will consist of a four day racing series, including a race around the Fastnet Rock. This year there will be a cap of 60 on the number of boats competing so early entry is advisable. The 2013 Festival of Sailing will begin with an ...
Friday Night League Sailing Instructions 2013 (click to download)
Two Cove teams are heading up to the SB20 Eastern Championships at Howth Yacht Club this weekend. There are 6 windward/leeward races scheduled over the two days and results will be available on the HYC website. At this point we are not exactly sure of the crews for this weekend but we do know the Kieran ...